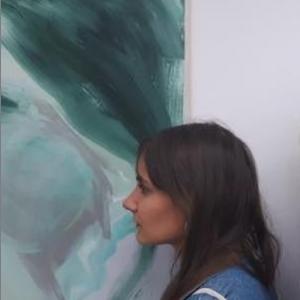 Desiree Nechacov
Artist member since 2019
Toronto, Ontario
Desiree Nechacov is a Toronto based artist originally from Kitchener, Ontario. She completed her Bachelor of Fine Arts from OCADU in 2019 where she received the Project 31: Drawing & Painting award and was nominated for the national BMO 1st Art! competition. Her painting practice uses the traditional means of oil paint on canvas to investigate the polarities of life and the human subconscious. Working wet-on-wet, she creates an ephemeral quality that appears to be just on the verge of a discernible form. Vaguely figurative shapes begin to surface from a shroud, signifying an emergence of the unconscious. Her work stems from personal experience and an interest in philosophy, transpersonal psychology, and altered states of consciousness.
---
Favourite book
Aldous Huxley's Island.
Favourite artist(s) right now
Damien Flood, Xie Lei, Philip Hanson, and Carol Wainio (representing Kitchener!)
What do you listen to when you work?
music (for some reason Our Lady Peace always helps me refocus) or podcasts (the duncan trussell family hour)
Best season of the year in Toronto
spring and fall. the other two are rough.
When I'm not making art, I'm (a) ...
rewatching greys anatomy
Upcoming Exhibitions
2019-07-15
Liberty Market Lofts Gallery, Toronto
Colour
2019-06-08
D'arcy Symposium, Toronto
Dreamscapes
Select Past Exhibitions
OCADU, Toronto
GradEx 104
Accolades
2019
Project 31
Drawing & Painting Award
Education
2019
OCADU
Drawing & Painting
SHARE THIS ARTIST